Prague ou le Deuil Inachevé
english version below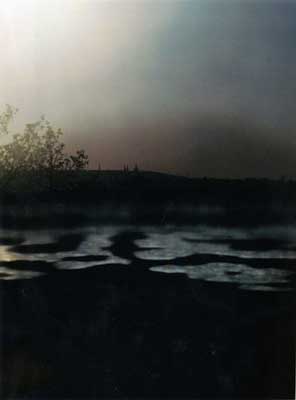 "Pour connaître ľâme et ľesprit des peuples étrangers, ľArt est la route la plus sûre." - Tomas G. Masaryk
Parfois, la vue rend aveugle. Il faut savoir fermer les yeux pour découvrir des visions plus subtiles, comme on peut avoir besoin de silence pour mieux entendre. Parfois, dans le silence aveugle perce une énergie presque palpable mais clairement abstraite; une vibration. Souvent, la ville est trop bigarrée et chaotique pour offrir au passant pressé sa musique la plus intime. La patience est demandée pour écouter le chuchotement de la rue, attendre ľheure tardive où la pierre se met à parler. ľhumilité est requise pour aller retrouver la ville ailleurs entre les lignes de ľécrivain qu'elle abrite ou dans la lumière d'une peinture de maître.
Peut-on photographier ľénergie de Prague? Croquer un bout de la pomme slave? Peut on capturer pour retransmettre la fièvre intérieure pleine de pudeur et de retenue, la curiosité dans le détachement, la passion dans le souvenir d'un passé sombre, le chaos harmonieux des âmes et des architectures, la beauté exubérante mais discrète, et aussi ľhumour, la satire et le sexe, armes secrètes des Pragois pour résister à la tristesse d'une vie qui s'écoule inéxorablement et surtout garder coûte que coûte ľesprit en liberté.
Vingt ans de démocratie - le plus bel age de la vie? - mais le plus fragile aussi. Vingt ans avait la jeune République Tchèque lorsque les nazis ont verrouillé la liberté dans le fer et le sang. Trop de fois au fil de ľhistoire, les voisins puissants sont venus tenter de mettre au pas ľesprit rebelle. Les Tchèques en connaissent un brin sur la somme de souffrance à payer pour conserver ce trésor convoité qui n'a pas de prix, et qui jamais ne sera à vendre.
"Et si quelqu'un prétendait nous contraindre par la force, ne pas céder - ne pas céder voilà." - Tomas G. Masaryk
Prague or the Incomplete Mourning
"To get to know the soul and the spirit of foreigners, art is the surest route." Tomas G. Masaryk
Sometimes sight renders one blind. One has to know to close ones eyes to discover more subtle views, like you may need silence to hear better. Sometimes, an energy breaks into the blind silence, an energy almost touchable but clearly abstract; a vibration.
Often cities are motley and too chaotic to offer their most intimate music to the hurried passer-by. Patience is needed to listen to the whispering of the street, to wait for the late hour when the stones start to talk. Humbleness is needed to find the town elsewhere between the lines of the author she shelters or in the light of a master painter.
Is it possible to photograph the energy of Prague? To take a bite of the Slavonic apple? Is it possible to capture and retransmit the interior fever full of modesty and restraint, the curiosity in the detachment, the passion in the memory of a dark past, the harmonious chaos of the souls and the architectures, the exuberant but discreet beauty, and also the humour, the satire and the sex, the people of Prague's secret weapons to resist the sadness of a life that goes by mercilessly and most of all to keep the spirit free, take what it may.
Twenty years of democracy - the best year of one's life? - but also the most fragile. The young Czech Republic was 20 years old when the Nazis bolted down freedom using iron and blood. Too often over the course of time, powerful neighbours came and tried to control the rebel spirit. The Czech people know a bit about the price of suffering, to conserve this coveted treasure that has no price and will never be for sale.
"And if someone aspired to restrain us by force, do not surrender - do not surrender that's all." Tomas G. Masaryk
Prague ou le Deuil Inachevé in Publication